The episode unfolds with the image of the Hollywood sign as a day ends, then switches to an aerial view of the city below through the night. Just before daybreak, our protagonist, Paige Townsen, is looking through the window of a private jet as a female airline hostess asks her to move back her seat for landing. Paige consents, but then the attendant, saying if it's no trouble, asks for an autograph. Paige asks to whom, and the woman responds, "Cindy". She signs it and hands the paper to Cindy, who then leaves. Paige continues to look out the window.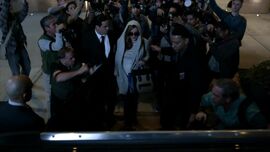 Soon after, Paige arrives at the airport, walking towards the exit, flanked by two security guards and wearing sunglasses with a hood. One of her men asks her if she's ready, and she replies, "
Let's do this
". They open the doors for her as a mob of paparazzi frantically begin to take pictures of her and call her name. Questions are thrown at her as she is escorted through the flashing mob: "Who are you dating?", "Hey, any personal comment about your personal life?", "Is this going to interfere with the movie?", "Why did Rainer walk off set?". She makes it to her car and takes off her sunglasses and the hood. Her driver closes his door and welcomes her home. She thanks him by his name, Derek, and later picks up a magazine lying next to her, analyzing the cover. She puts it back, exposing the front with a picture of her on the cover of US Weekly.
---
One Year Earlier
---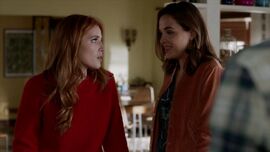 Paige's best friend, Cassandra Perkins asks for five dollars, whining that she can't have another PB&J sandwich for lunch. Paige reminds her that there is a reason why they made her the banker - for making rent. Cassandra says she will probably eat her fingernails and asks Jake Salt if it counts as protein. Jake whispers to Paige "cheese enchilada" as he walks over to them while Cassie suggests nachos with extra jalapeños. Paige relents to Mexican food, but asks for more guacamole.
Cassie celebrates, as Paige and Jake look at each other. Cassie then says that after lunch, they could go to Gold Brothers Studios and audition for the Locked movie. Paige asks if she's serious, but Cassandra really is - Locked is the biggest book series since Harry Potter, which is why 10,000 girls are auditioning. Cassandra counters that everyone has an equal shot at it and they're both going, whether Paige likes it or not. Paige protests that her parents would be so unhappy if they went. Jake, however, interrupts and says she gives the performance of a lifetime when she lies to her parents about liking math. Paige says it's econ, and badly lies about hating it. Cassandra wants Paige to admit she wants to be an actress, which she reluctantly does. However, Paige says that if she tells her parents, they will make her go back home. Cassie then proposes that she doesn't tell them and should come to the Locked audition with her. Both Jake and Cassie visually plead with her, and Paige once again relents. She asks what they're wearing. Cassie excitedly suggests to go shopping, hide the tags, and return them. They run off, leaving a smiling Jake to watch their retreating backs.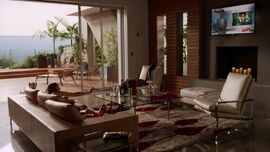 At a luxurious home, an underwear-clad
Rainer Devon
intimately makes out with a topless girl on top of him on the couch, while tabloid reporter
Barrett Hopper
gives the latest gossip about him on television. The girl breaks away, fascinated at the report and tells him he's on TV. She raises the remote to turn on the volume and listens as Barrett dishes on the current drama with his enemy,
Jordan Wilder
. The girl asks why he isn't commenting, which Rainer replies that he doesn't need to. Barrett, on television, wonders if Rainer is lonely since his girlfriend
Tangey Turner
is on tour. The girl asks Rainer if he can get her tickets to her concert. Barrett then mentions Rainer's mother,
Nina Devon
, and her thoughts about the fight.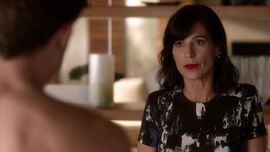 As if on cue, Nina comes down the stairs and catches Rainer and the girl almost naked on the couch. She turns off the TV and hands the girl back her dress from the floor, telling her that there is a car waiting to take her home. The girl runs off, and Nina asks Rainer if the girl needs to sign a confidentiality agreement, but Rainer says he took care of it last night. He retrieves and pulls up his pants as Nina asks someone over the phone where Barrett Hopper is having lunch. The girl, now dressed, comes back to get her heels, telling Nina that it was nice to meet her, with Nina replying likewise. Rainer tells her he will call her. She stares back at him, then finally leaves. In the kitchen, Nina tells Rainer she will take care of Barrett, but she says there are rumors that Rainer has started fights and is uninsurable. Rainer tells his mother that he hasn't been drinking. He then notices she has "the look" when she has something she doesn't want to tell. Nina tells him he got the lead for
Locked
because he will deliver. Rainer tells her to say the truth already. She tells him she is deeply invested in the movie and that it has to be a hit. He tells her he is ready and wants it. She believes it, but that it's hard to market the movie with just his name on the poster, so she called Jordan. Rainer objects and asks if he has a say in it. Nina tells him he is either in or out.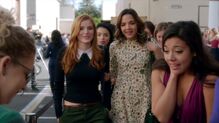 Hundreds of girls are waiting in a long line outside in the production lot to audition for Locked. A reporter stands next to the long line announcing the film is looking for its lead female road. Paige and Cassie are in line, looking very excited as the girls in front of them are escorted inside by a woman. She yells out, "Next!", and the two friends introduce themselves, with Paige babbling about there is no last "d" in her surname. The woman leaves and Cassie scolds her for babbling, which Paige does again by denying. They later go inside, and Paige, realizing her competition, remarks she might throw up. She's pinched by Cassie.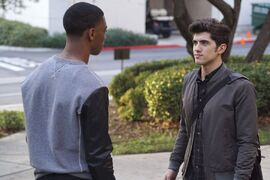 Meanwhile,
Jordan Wilder
walks in front of the production building when he encounters Rainer by accident. They both stare at each other until Jordan says there's a chance they might be working together again, so he pleads Rainer to leave "it" behind them. Rainer says he doesn't get it - it's not about
her
, it's about who he (Jordan) is, or more specifically, what he turned out not to be. Jordan tries to convince him it isn't how it looks but Rainer interrupts him, telling him to get out of his way. They both walk off in different directions.
Rainer arrives at the audition room, excusing himself for being late.
Wyatt Lippman
, director of
Locked
, tells him he should be aware Jordan Wilder is being considered for the role. Another crew member, Kateland, tells him he won't be having any scenes with him, as it'll just be with the actress playing
August Roch
. Wyatt exclaims that the complex role is meant for a real actress, to which Kateland comments that
Dakota Nichols
would be perfect for the role. Wyatt objects and nominates
Alexis Glenn
. Rainer, not listening, stares out the window at the long line of girls and notices a certain redhead, Paige. She turns around with a fist-bump in the air, revealing her gleeful face. Rainer himself smiles, taking in the ecstatic energy she was projecting as if she was celebrating an achievement.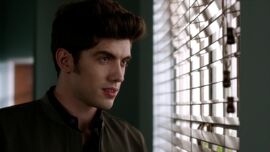 Outside, Paige walks out of the building after her audition, declaring she's okay with whatever happens. Cassie replies, "Yeah, right". She thanks Cassie for making her audition for the role. Cassie knew she could do it, but Paige isn't sure the casting team thinks that. However, she believes in herself and really felt like she was August in the act. Cassie stops a random man and tells him Paige killed it, Paige Townsen without the "d" and to remember both their names. Paige tells her it's best if they leave. Inside, Nina asks Rainer if he's excited for Dakota and/or Alexis. He replies yes, and looks back at the window, watching the beautiful redhead leave with her friend.
Later that day, Nina arrives at a trendy patio restaurant named Lloyd's, swarmed by some paparazzi who ask if she has cast August in the movie yet. She ignores them and proceeds to go inside. When she enters, she immediately sees Barrett Hopper dining in one of the booths. She approaches and greets a man named Tommy, who is apparently the restaurant's host. Tommy tells her he remembers the days when Barrett used to come in here to get her lunch. Nina walks herself over to Barrett's booth and pushes him off his seat and into the next one. She tells him her son hasn't had a drink in over a year, to which he replies to tell him cheers. She demands him to stop the negative press, but he says he'll end it when he wants to.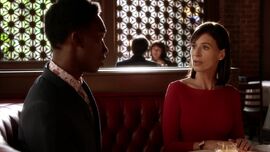 Nina reminds him he was on her desk for two years, so he knows how she plays. She warns him not to start something with her. He tells her his company is one big secret away from going global — and that her son is the key to getting there. An angered Nina suddenly grabs his balls beneath the table, and he visibly stiffens and shakes from nervousness and pain. Rainer's mother tells Barrett he was a whimpering little twit when she hired him and that she has friends who enjoy taking care of her little problems. "They like to squeeze," she says, just as she tightens her grip. She warns him one last time to stay away from her son, and lets go. Nina tells him she doesn't want to grab his balls again as she wipes her hand off. She stands and leaves as he tries to compose himself. She makes a cynical remark to a smirking Tommy that Barrett needs a bag of ice as she leaves the restaurant. The paparazzi are back, but they are following Jordan Wilder, who tells one of the photographers to back off as he hops onto his motorcycle. He makes eye contact with Nina, but breaks his stare as he puts on his helmet and drives away.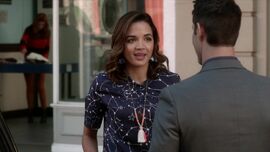 Later on, Paige and Cassandra are happily singing the song
Ex's and Oh's
by Elle King while folding their laundry at the laundromat, gaining the delightful attention of an elderly woman with a book.
Paige asks if the current shirt Cassie is folding is vintage, which Cassie replies it is — it was her grandmother's favorite shirt and the one she was supposed to be buried in, but she decided to keep it. Paige questions why Cassie still has it, but Cassie says it's for Jake's play, as they are supposed to dress to the time period. Paige compliments Jake's smartness, and Cassie gives her a knowing stare as she leaves to drop e laundry to the car. Paige opens up one of the dryers and she sees a man approaching Cassie, as she drops off the clothes in the car. Cassie calls him "Brody", but Brody refers to her as "Lacey". He says he was going to call her, but Cassie says she's helping her friend fold laundry. Brody sees Paige looking at him and tells Cassie she could bring her friend along. Cassie tells him she'll ask, and he leaves. Cassie comes back, as Paige asks her who the man was. Cassie bluffs and tells her he was some rich guy who needed directions. Paige says it looked like he knew her, but Cassie is adamant that she doesn't know him and vice versa.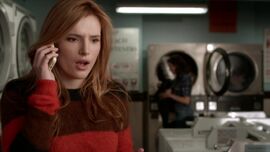 The sound of a dryer buzzing grabs Cassie's attention as Paige's phone begins to ring. She answers, and the person on the phone asks if she's Paige. She tells the person she is, but she's not, but she is without the "d" at the end. The person says she has a callback for
Locked
tomorrow. Paige is disbelieved as the person confirms tomorrow at 4 p.m. at the studio. Paige says okay as the call ends. She excitedly looks at Cassie, who is taking out the clothes from the dryer. Her smile falters a bit as she looks back at her phone, but she looks up shocked and amazed.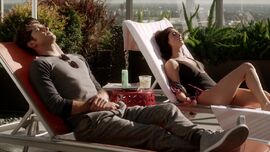 Later, Rainer arrives at a luxurious pool resort just above the city. Alexis Glenn is on the phone with someone, who says she couldn't get her despite promising Alexis she would yesterday. The person suggests she doesn't want to talk to her, something Alexis finds offensive. It turns out Alexis is trying to contact her manager. She ends the call, just as she is approached by Rainer. Alexis says she isn't taking sides in their fight, but Rainer says it isn't about the fight. She sarcastically asks if he's come to protect her from melanoma. Rainer sits down as Alexis offers him a drink, but he reminds her that he's sober. She forgot, but she says it's hard to give up something in this town. Rainer says they were in rehab together, but Alexis thought he was doing that to spin some bad boy credit. However, Rainer was forced by his mother, which Alexis replies that that was genius.

Rainer tells her they are offering Jordan the role, which results in Alexis taking off her sunglasses and saying "Bang me". Alexis thinks he won't get it, but both of them know if Jordan wants it, he'll get it. She begs him to end the fight, as she feels she's reliving her parents' divorce. He tells her that it's between her and Dakota for the role of August. Alexis needs the role, but Rainer says that's only possible if she convinces Jordan to drop out and he'll get her the role. Alexis has no idea how to do this, but Rainer knows she can figure it out. She looks at him and he looks back. Alexis gives in and says he'll talk to him. Rainer thanks her and begins to walk away. She calls out to him that she won't screw Jordan, but Rainer tells her he didn't ask her to.
At night back at the students' apartment, Paige glances at Jake, as he makes some burgers in the grill outside in the balcony. Cassie catches her and demands, for God's sake, that she remove the tags and walk up to Jake like she owns him. Paige raises her shoulders and tells her she has no idea what she's talking about. Cassie knows Paige wants more than Jake's burgers, but Paige shushes her. Cassie doesn't want to hear about how Jake is the best guy friend she's ever had despite Paige tells her he is and how she doesn't want to screw their friendship up. Cassie confirms she is screwing up, by not screwing him. She warns Paige that if she waits too long he'll find someone else. Cassie says she's into him and he's into her her, and Paige should do something about it. Then, Jake walks inside. Cassie asks him if she can borrow his car, all while Paige is checking him out. Paige asks her if she got a call from the studio, but Cassie says those losers wouldn't recognize talent if they saw it. They say goodbye as she leaves.
Cassie later arrives at the doors of a large mansion and presses the button of an intercom. A voice asks who it is, and Cassie replies "It's Lacey". The doors open for her. She steps out of the car dressed quite classy, and a man opens the front door for her. It's the man from the laundromat, that Cassie insisted she didn't know.

Alexis then arrives at Jordan Wilder's apartment and finds him at the balcony. She compliments the nice view, and Jordan replies that Los Angeles looks like a different city at night. But Alexis was talking about his ass, but the lights are pretty, too. Jordan asks her if Rainer sent her. Alexis confirms this by replying Rainer wants him to drop out. But Jordan objects: he was offered the role and he's taking it. She doesn't think it's a good idea as they can't stand to be in the same room together. But Jordan will do it. Alexis tells him she knows why Rainer's mad at him, and then asks if it was worth it. Jordan dodges it and notices that she asks a lot of questions. Alexis says it's called making conversation and tells him he could ask her something. He asks if she made it, to which she replies "why not?" They both leave the balcony. 

Paige is eating soup as a shirtless Jake comes to the kitchen to get some ice cream from the fridge. He catches her looking at him and she quickly looks away. Jake asks her "What?" and thinks she also wants some ice cream. But she announces doesn't want some (in a stuttering manner) as he always picks at the sides and leaves the hard ball of ice in the middle. He asks her if he put up the toilet seat again, but Paige wants him to put on a shirt.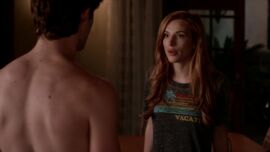 Jake says it never bothered her before, but Paige responds with more stuttering that it bothers her now as she can't concentrate while looking at his chest. Jake asks why she's mad at him but Paige doesn't answer the question. Jake can't read minds so he has no idea what he's talking about. Paige begs him to stop "this" and tells him it's rude to walk around shirtless and that she can't concentrate with him around like that and she has no idea what to say and she wants to rip the tags off but she can't because he's her best friend and she's confused. Jake stops her babbling and tells her to breathe. They look at each other, and Jake leans in to kiss her. Cassie inadvertently interrupts just before they kiss, and wants to know if there's anything they want to tell her. They both look at each other and Paige bluntly tells them she got a call back from the studio. Cassie and Jake are excited for her and congratulate her. Paige asks Cassie if she's mad, but Cass is anything but. Jake tell her it's a total game-changer, and tells the girls he's getting the champagne Cassie stole from her uncle's funeral. But Cassie reminds him it was a wake and she took it as a party favor. Cassie asks her if Rainer is going to be there. Paige looks at Jake, who looks up at her from his ice cream.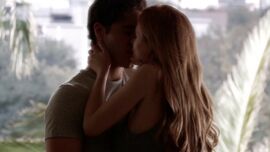 The next morning, on the balcony, Paige is reading her script as Jake comes up behind her and asks if she got enough sleep. She did, only after Cassie stopped talking. Jake says they both are excited for her. Paige tells him she wouldn't know what to do without them. Jake tell her that last night, before Cassie came home, that he felt there was something she wanted to tell him. Paige stands open-mouthed and tries to deny it, but Jake knows what she wanted to tell him. He puts his hands on her cheek, pushing the hair away, and passionately kisses her. They both break apart, with Paige saying they should talk about it after his play. She adds that they should maybe grab a drink. "Did you guys just break the tags?" Cassie's voice coming from behind causes them turn to look at her. She smiles at them, happy they realized their feelings for each other.  
Nina Devon arrives at a room believed to be her office, where she finds Rainer and asks him why he's here. She complains that Hopper has filed a restraining order against her. Rainer asks her why does she care. Nina explains that this movie is important to her and that until filming starts, neither one of them can afford to make no mistake. Rainer explains that it's Jordan's fault, but Nina warns him to stay out of the press. She adds she will find a way to get rid of Hopper.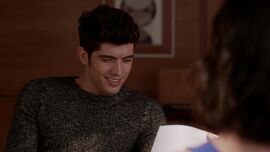 Rainer indirectly asks what "get rid of" means. He looks over the pictures of the potential candidates for the role of August, and find Paige's picture. He smiles at it, recognizing her as his redheaded beauty from yesterday. Nina questions him on what the smile is about. He asks if these girls are today's callbacks. Nina confirms it as they need to come over as quickly as possible. Rainer thinks they might be able to find someone who surprises them, but Nina sarcastically disagrees. He asks her if she is mad at Jordan, or Hopper, or him. "Do I have to pick one?", she responds. Rainer, having had enough, stands up to clear his head. He tells her he's sorry he disappointed her. But Nina says she's fixing it, just so she grabs a phone and begins dialing it. He leaves his mother.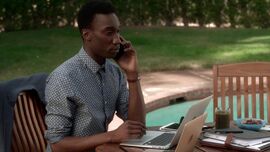 Hopper is on his laptop, outside in a backyard, in the company of a shorts-clad man relaxing in the pool. He complains how a magazine is offering a million dollar for the next Jordan-Rainer fight video. He receives a call from Nina. Freaking out, he answers and tells her this is illegal and will call 9-1-1. Nina tells him she knows what he wants and she'll get him there - without the influence of her son. Hopper asks her why he should trust her. She replies that the real story isn't behind Rainer - it's about Tangey Turner, the slut who cheated on Rainer with Jordan. Hopper replies that he's listening.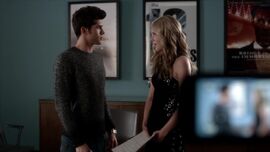 British actress,
Dakota Nichols
, is auditioning for the role and reading some lines with Rainer, in the presence of his impressed mother and the production team. They finish, and the man thanks for her coming in. She replies that they saved her from having lunch with her mother, who is out for autographs. Nina tells her that they will continue the castings, and she leaves. Then, Paige is escorted inside the room. The woman who escorted her announces her as Paige Townsend but Paige corrects her.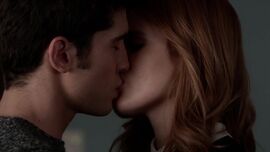 Rainer looks up at her, recognizing the beautiful redhead. Paige herself looks at him, mouth gaping a bit. He introduces himself. Paige exhales a breathy "Hi" and introduces herself, then begins to babble about how sorry she is that her hands are clammy and how it's her first auction and how if Cassandra were here she'll pinch her. She can't believe she said the word "goober". Rainer asks if he can pinch here, but she declines. He smiles, finding her stuttering endearing. The impatient productions man asks if they could start. Rainer tells him to give him a few seconds and asks Paige if he could tell her something. He leans in to whisper something in her ear, and she thanks him in a whisper. He tells her they got this, and she agrees. They get in character and begin acting, ending the scene with a kiss. The production team is speechless. Paige then decides it's best for her to leave and starts going. She momentarily can't get the door open, until she finally does. Nina asks the girl is, curious.
Paige heads outside into the productions lot, as a man named Chad is dropped off and leaves Paige staring in his wake. She turns to leave but is stopped by the escorted woman, who asks her to come back inside. Paige asks if she did something wrong, but the woman says they want her to read with another actor. She also tells her she surprised the team and that she does stand a chance to get the role. Paige thanks the woman for not being mean to her as she is going to cry. She takes her back inside.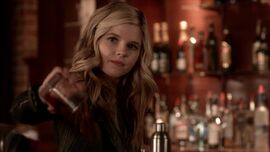 Meanwhile, at the same trendy restaurant, Dakota is given a drink by Tommy. She asks if this is his way of telling her she didn't get the part. However, he tells her she is still in the running. Dakota asks who told him that, and Tommy replies "Alexis", whom the drink is from. She looks back to where Alexis is sitting. Alexis smiles and raises her drink in a toast. Dakota gets her drink and raises it, but dumps the contents on the floor. She tells Tommy she's sorry for the mess and leaves, with Alexis looking back at her.

Paige returns to the audition room, much to Rainer's slight delight. Nina thanks her for coming back, and introduces both herself and Jordan Wilder. The production team behind her introduce themselves as
Wyatt Lippman
the director and Kaitlyn the writer.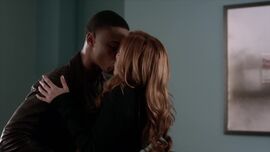 Jordan takes off his headphones to start his audition, with Paige saying she's a little nervous. They repeat the act and lines (including the kiss scene) but this time Paige gets a little teary. Wyatt says it was fantastic while Nina thanks her. Paige leaves the room. Nina compliments her, believes she has something and the others agree. Rainer once again looks out the window to see Paige leaving, and smiles. Nina believes they have found their August.
Paige is outside the Gold Brothers Studios, on the phone with Cassandra as she gets into her car. Cassie is getting ready for Jake's play. She believes she was too over-the-top, but Cassie can't believe they took the scenes all the way to the kiss. Paige thinks Rainer was so romantic and Jordan was so "Oh My God". Cassie says the second she comes to the play, they're kissing. And she wants every detail of the audition. Suddenly, Rainer is next to the driver's seat of the car, looking down at Paige.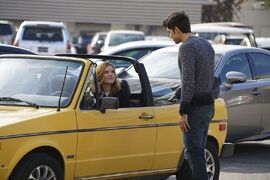 Paige notices and looks up at him. "Rainer?" He asks if she has a minute. Cassie, on the other end of the phone, realizes Rainer is there. Rainer thinks she was great in there, and Paige thinks he did good, too. Rainer asks her if see some to grab a cup a coffee. Cassie, on the phone, replies yes. Paige asks if it's about the movie, but Rainer just wants to hang out. She wants clarification that it's just them, he and her, together. Rainer just asks her to say yes, along with Cassie's pleads. Paige tells Cassie she'll call her back and ends the call.
Meanwhile, Jake is looking through the curtains to the audience. A disappointed Cassie walks over to him. Jake tells her that something's wrong - Paige isn't there. Cassie assures him that she's fine. Jake says she wouldn't miss this, and speculates that Paige may have gotten into an accident. Cassie confesses that she's with Rainer Devon. Jake thinks she's still at the audition, but Cassie says she's on a date with him, leaving a sullen Jake as she goes on stage for the play. Later, Paige and Rainer are sitting in a posh restaurant, at their date talking, eating, and laughing.

Cassie is finishing taking a selfie with a girl as Jake is approached by a man. He introduces himself as Lenny and says he loved the play. He gives Jake his card and says if he has anymore screenplay, he should send it so Lenny can review it. Jake thanks him as Lenny leaves and Cassie comes over. She asks who he was, and Jake says he is an assistant to Kevin Stone from LDM. Cassie says it's a legit agency. Paige suddenly arrives and says she's sorry she's late. Cassie tells her Jake got an agent's card, but Jake corrects her and says it's an assistant's card.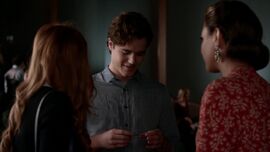 Cassie demands that Paige kiss her, as she is adamant to kiss the lips that kissed Rainer Devon. Paige, aware of Jake's attention, tries to downplay the kiss as part of the audition. However, Cassie says it still counts. Paige quickly kisses her, asking if she's happy now. Cassie is pleasantly shocked and looks out of breath. Jake asks Paige if she wants to go out for drinks. As Paige tries to answer, she gets a call from Rainer Devon. Cassie is shocked she has Rainer's number, while Jake says she should answer it. Paige says she can call him back, but Cassie takes the phone from her and answers. Paige takes it back and Rainer admits he wanted to call her personally. Paige says that she tried the best she can and there's nothing she can do. But Rainer says she got the part. Paige is shocked while her two friends freak out. Rainer says they have to celebrate and that he'll send a car. Paige, still in shock, stutters and says it's so nice of him but her friends just put on their very first play and she's going to celebrate with them. But Rainer says it should be a party, much to Cassie's joy. Paige doesn't want to leave them, so Jake says they will go with her, which sends Cassie into a frenzy.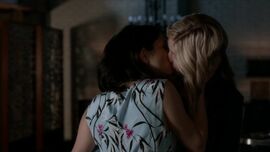 Alexis arrives at her apartment and immediately goes to a table full of alcoholic drinks. She takes off her coat and starts to open a bottle. Dakota emerges from the shadows, walking over, commenting that she bought her that coat. Alexis says she thought Dakota wasn't talking to her. Dakota says she still isn't. Alexis sarcastically observes her lips are moving and all she's hearing is blah blah blah. Dakota comes to take the drink out of Alexis's hands, saying she's had enough. Alexis says she liked her better when she wasn't talking. She also adds that she didn't go to Jordan's to sleep with him. Dakota glares at her, and Alexis admits that maybe she did. She adds she has every right to be mad at her as she is mad at herself, too. Dakota stays silent. Alexis tells her she didn't get the part because some nobody got it. She confesses she's afraid to call her agent because she's scared she might dump Alexis. Dakota says she just needs a head to be back on top. Alexis comments how she hates this town, but Dakota says she hates keeping their relationship a secret. Alexis tells her to shut up and kiss her, which she does passionately.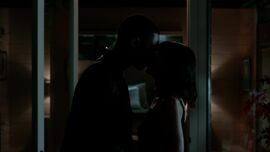 Jordan Wilder arrives on his motorcycle to a house. He walks up the stairs and enters through its front door. Going into the living room, he finds a lit fireplace with two glasses of wine sitting in front of it. Looking through a glass wall, he spots a figure and walks over to it. It's Nina Devon. Jordan tells her he was surprised she called and, referring to he and Rainer's fight, confesses that he didn't swing first. Nina turns around, revealing a lacy sleepwear outfit. She looks up at him, and they kiss. He picks her up and leads her into the bedroom. A black SUV arrives at a place filled with paparazzi. Jake steps out of the passenger's seat and opens the door for Cassie and Paige. The mob of photographers take notice of them and begin to yell out questions, the most important being "WHO ARE YOU?"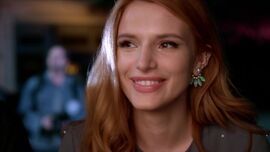 Jake asks Paige if she's okay, which she replies she is. They hold hands, and the three smartly-dressed fans begin to move forward. Cassie asks one of the photographers who is inside, and he says Rainer and the cast of
Locked
are in there. Word is he's waiting for his next costars. Paige looks on to the entrance of the party and observes the paparazzi. She smiles, excited and accepting of the future.